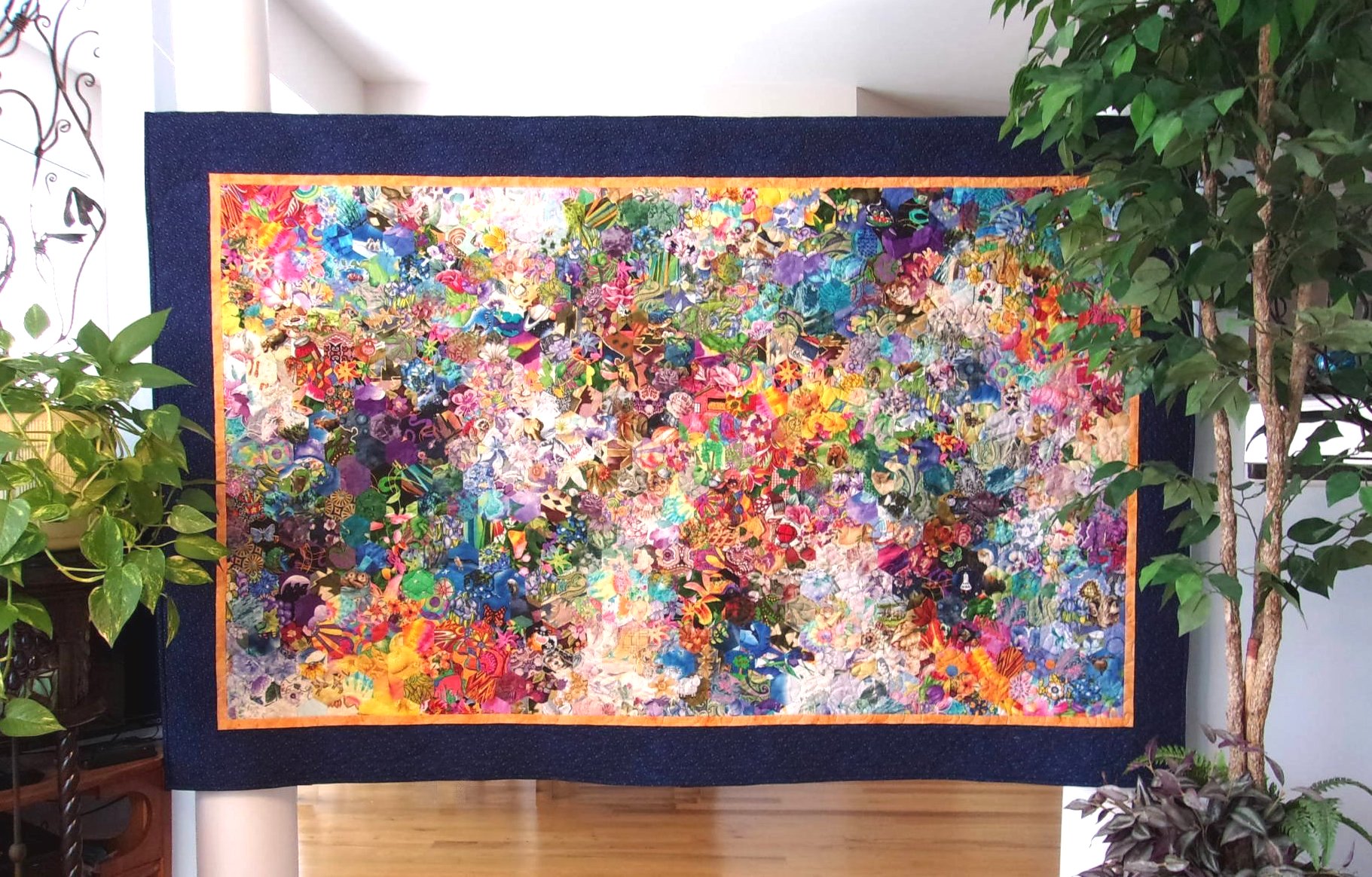 "I Spy II"
(70" x 50")

651 hexagons made from scraps are transformed into a colorful garden with 101 "I Spy" items to find.

(Machine quilting by Chryste Krause.)




I invited my dear friends from the Swannanoa Valley Friends Meeting (Quakers) to choose their favorite scraps and help make some of the hexagons. Since this quilt was made BY a community I hope that it can help CREATE community by being displayed in a public place where people from a variety of backgrounds face a period of tedious or anxious waiting together (e.g., surgery waiting room, airport terminal, DMV, car repair shop.) Perhaps moments of camaraderie and community can happen as strangers pass the time by helping each other find things like the penguins in fancy hats, the frosted donut or the hardest of all . . . the elusive cockatoo.

To see a checklist of "I Spy" items to find, click here. Article will open in a new tab. For information on creating a community "I Spy" quilt for your church or group, contact me.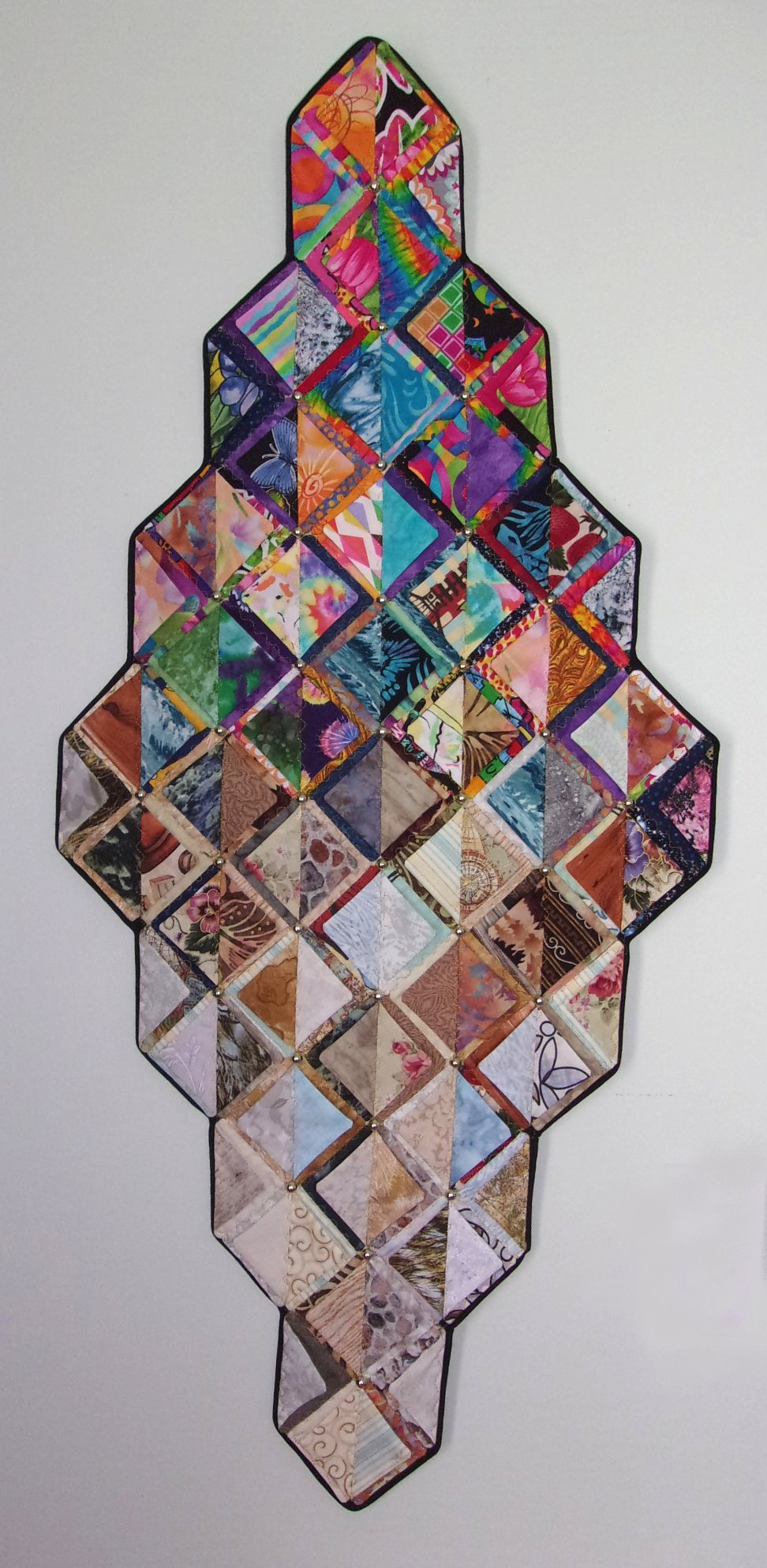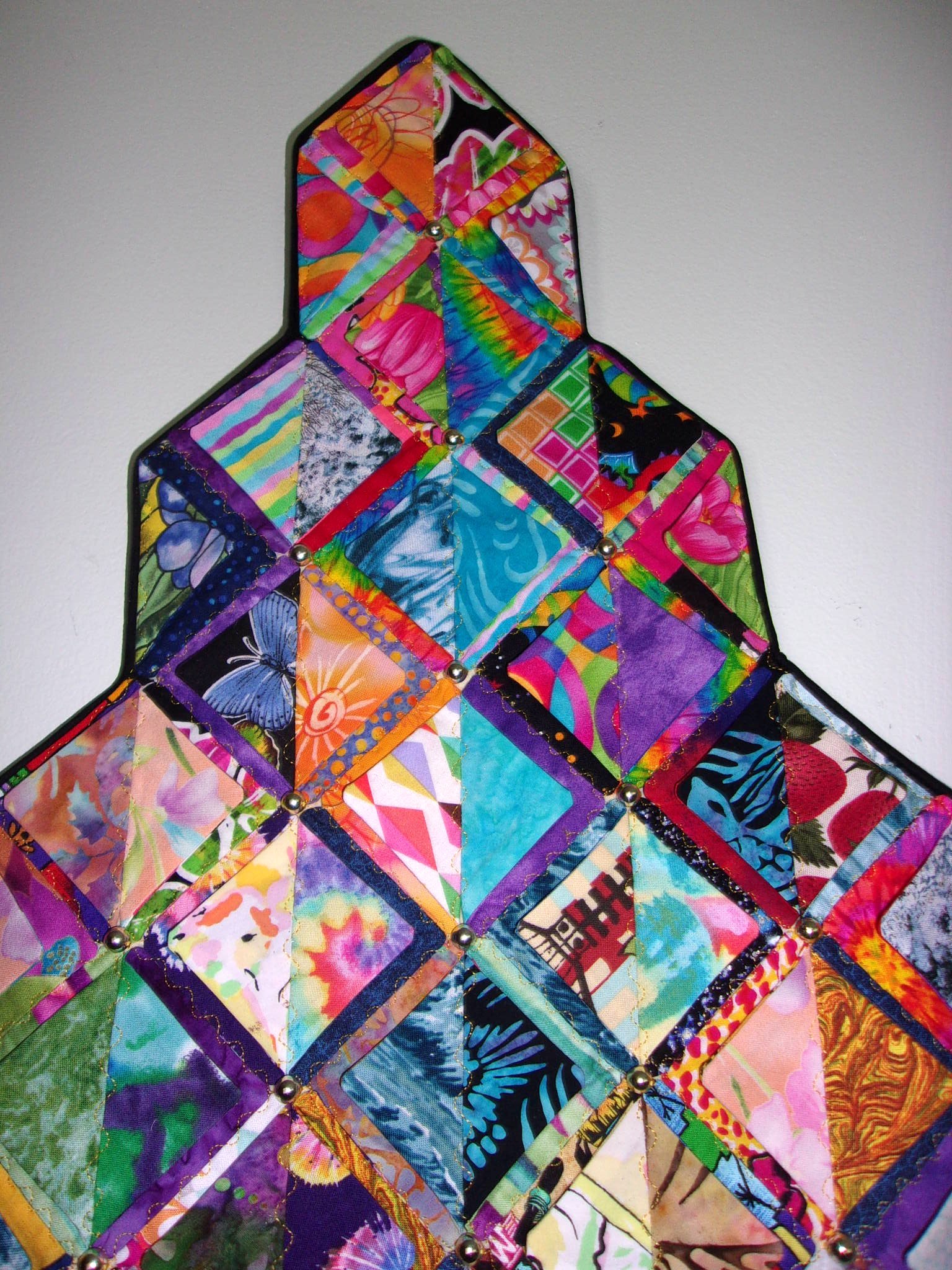 "Folded Squares"
(17" x 37")

Scraps were sewn into two-sided 3" squares, folded and assembled with gold beads and a piped edge to make a multi-textured wall hanging. Can be displayed vertically or horizontally.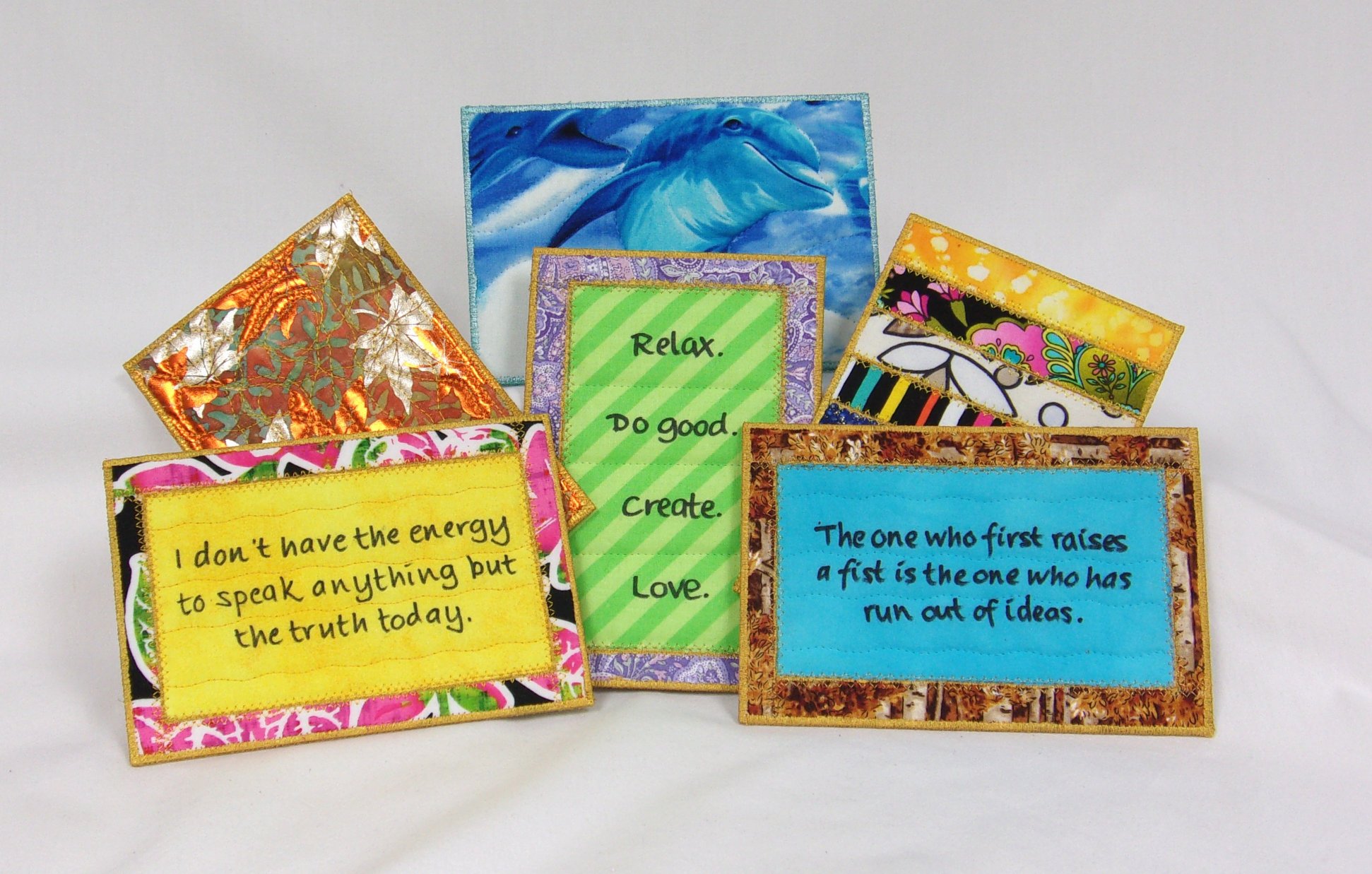 Mailable Mini-Quilts--Colorful 4x6 quilts that, with extra postage, can be sent through U.S. mail like a postcard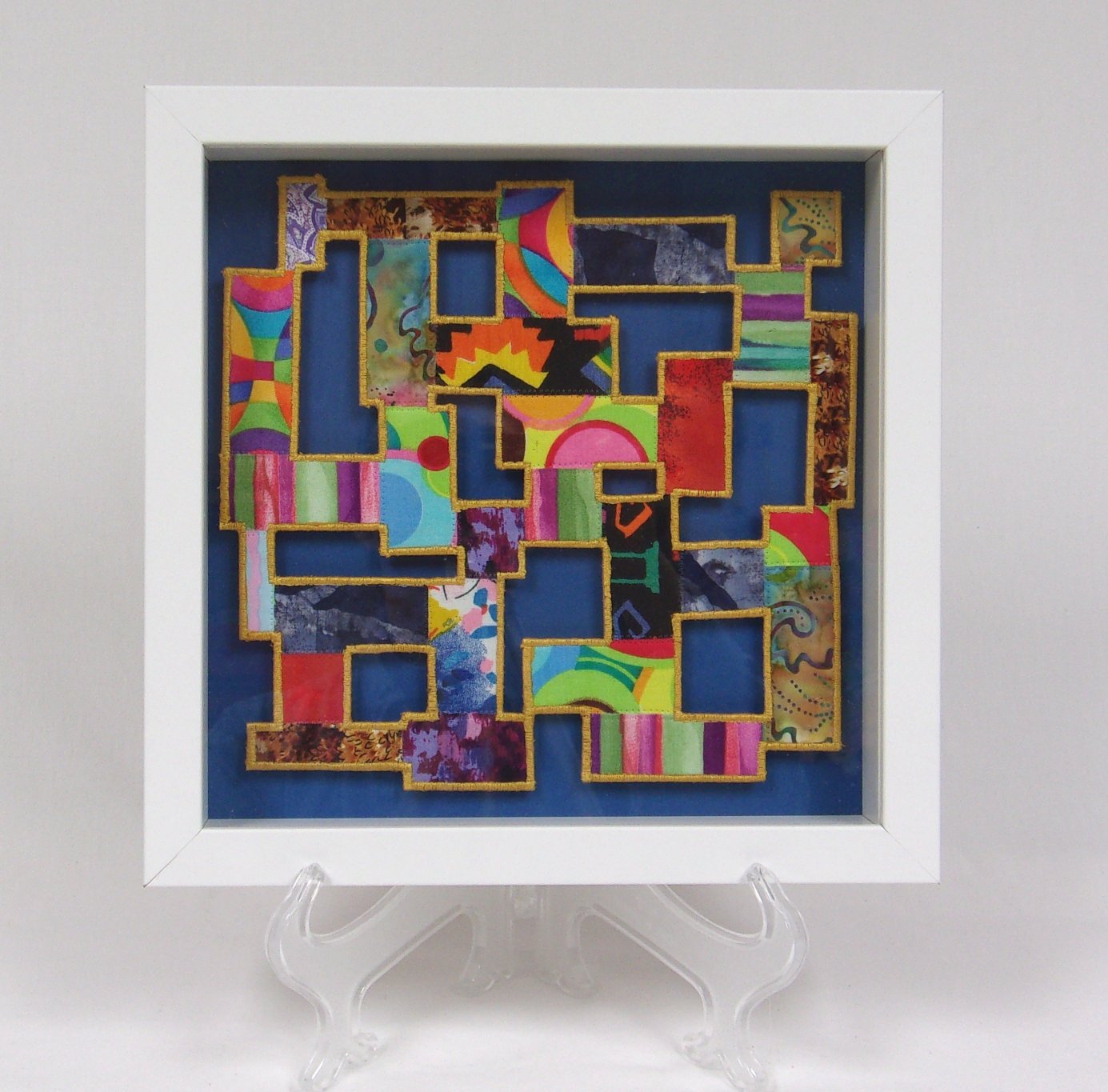 Scrap Squares--Leftover bits from the mailable mini-quilts are floated above the background and transformed into a small décor piece. (10"x10"x2")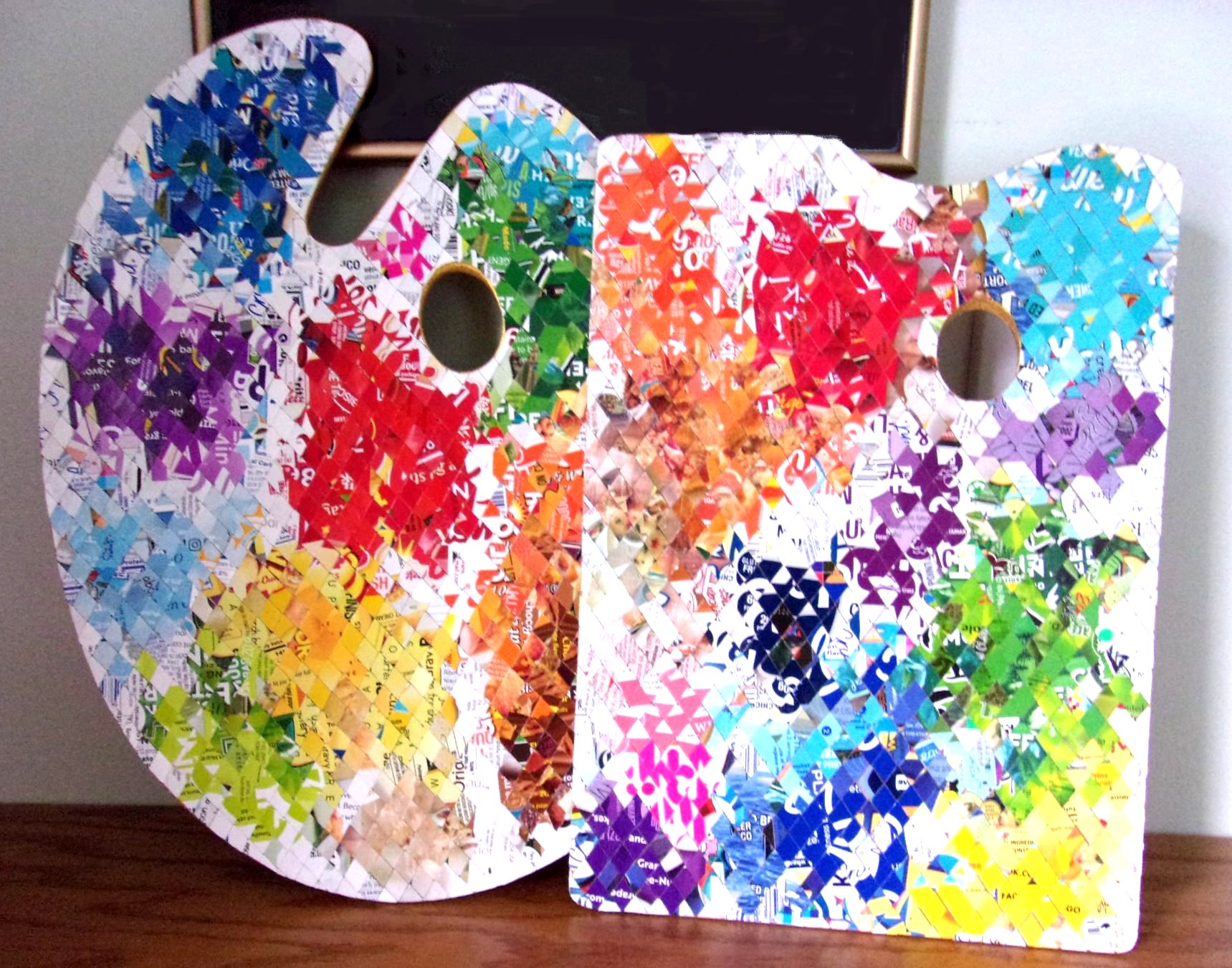 "If You've Got Color, You've Got Paint"-- In a different kind of recycling, colorful cardboard packaging was die-cut and assembled to create fanciful artist palettes.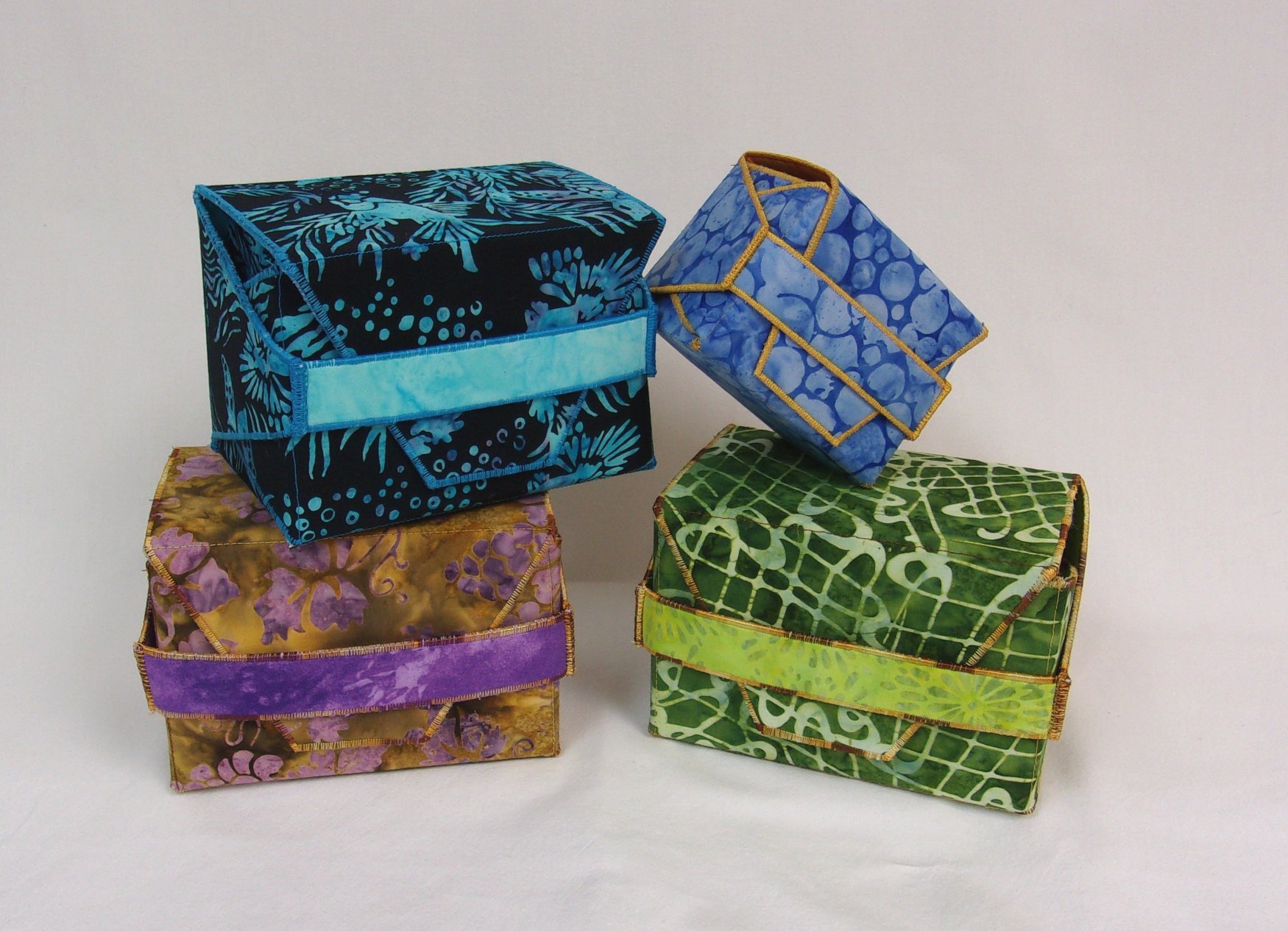 Gift Boxes--The wrapping is a gift in itself. Boxes fold flat for storage. (6"x4"x4", 5"x3"x3")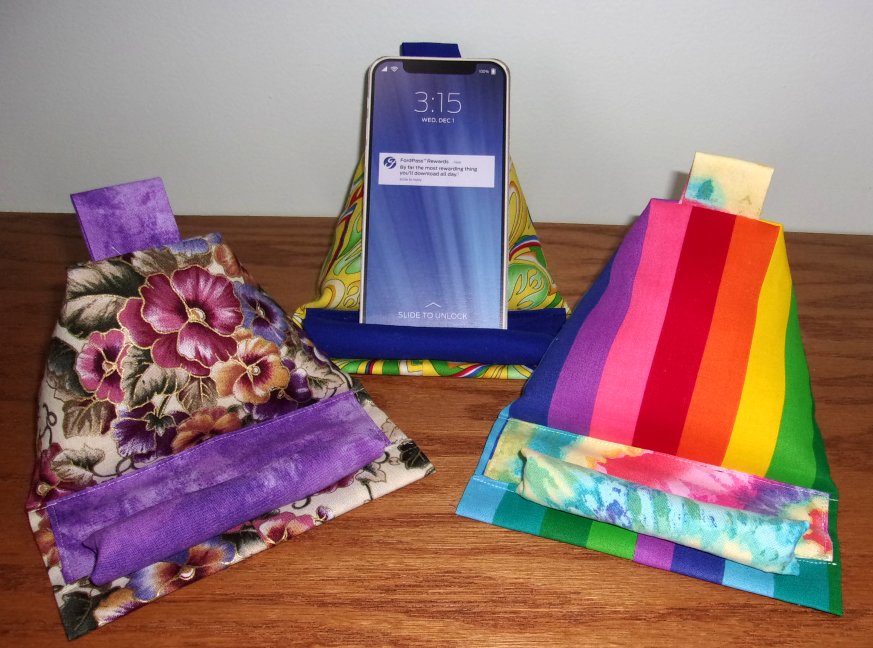 Cell Phone Stands--Scraps become colorful, wrist-saving stands for cell phones and other small electronic devices. Great for use in the kitchen when cooking from a recipe on your phone.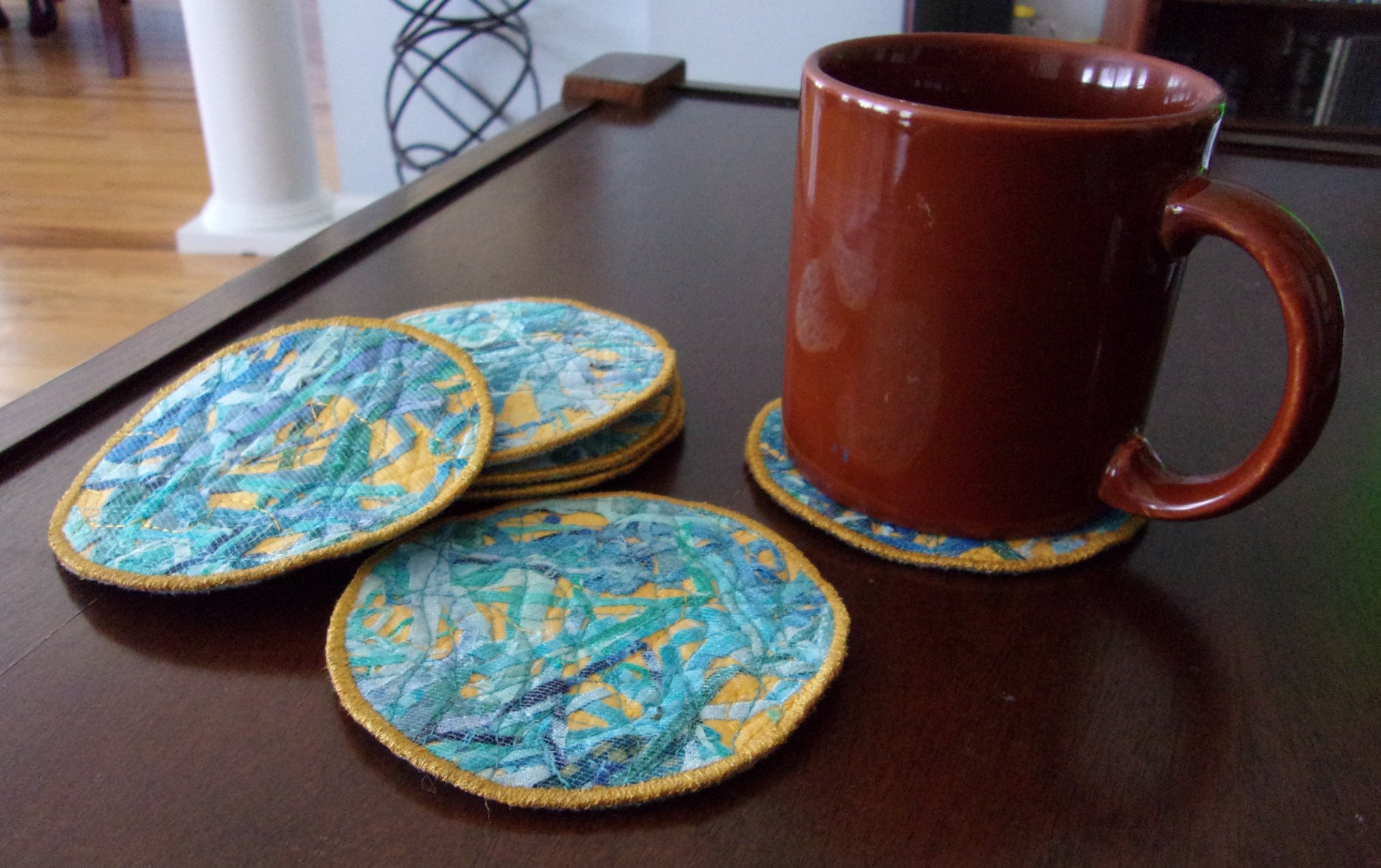 Trim Scrap Coasters--Tiny strips, usually discarded, are stitched back to usefulness as coasters.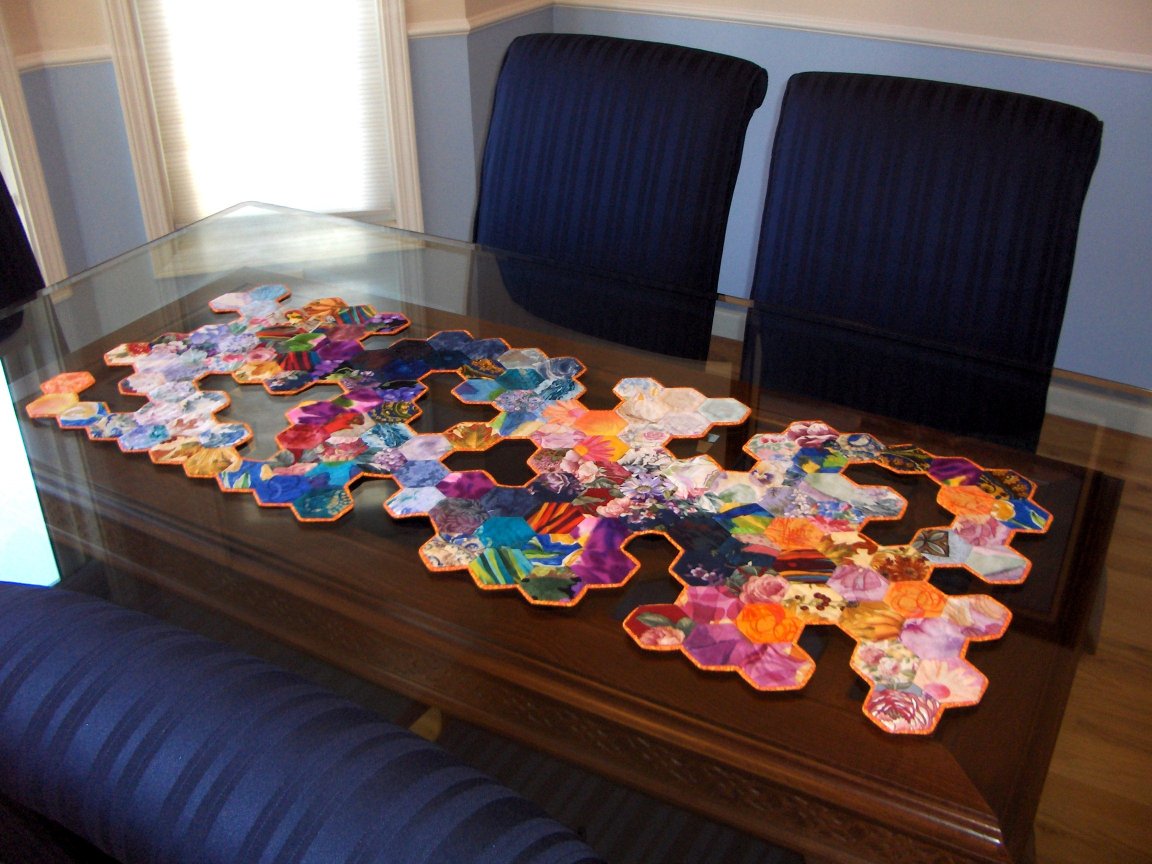 Hexagon Watercolor Table Runner--Hand stitched open work with piping. (18"x48")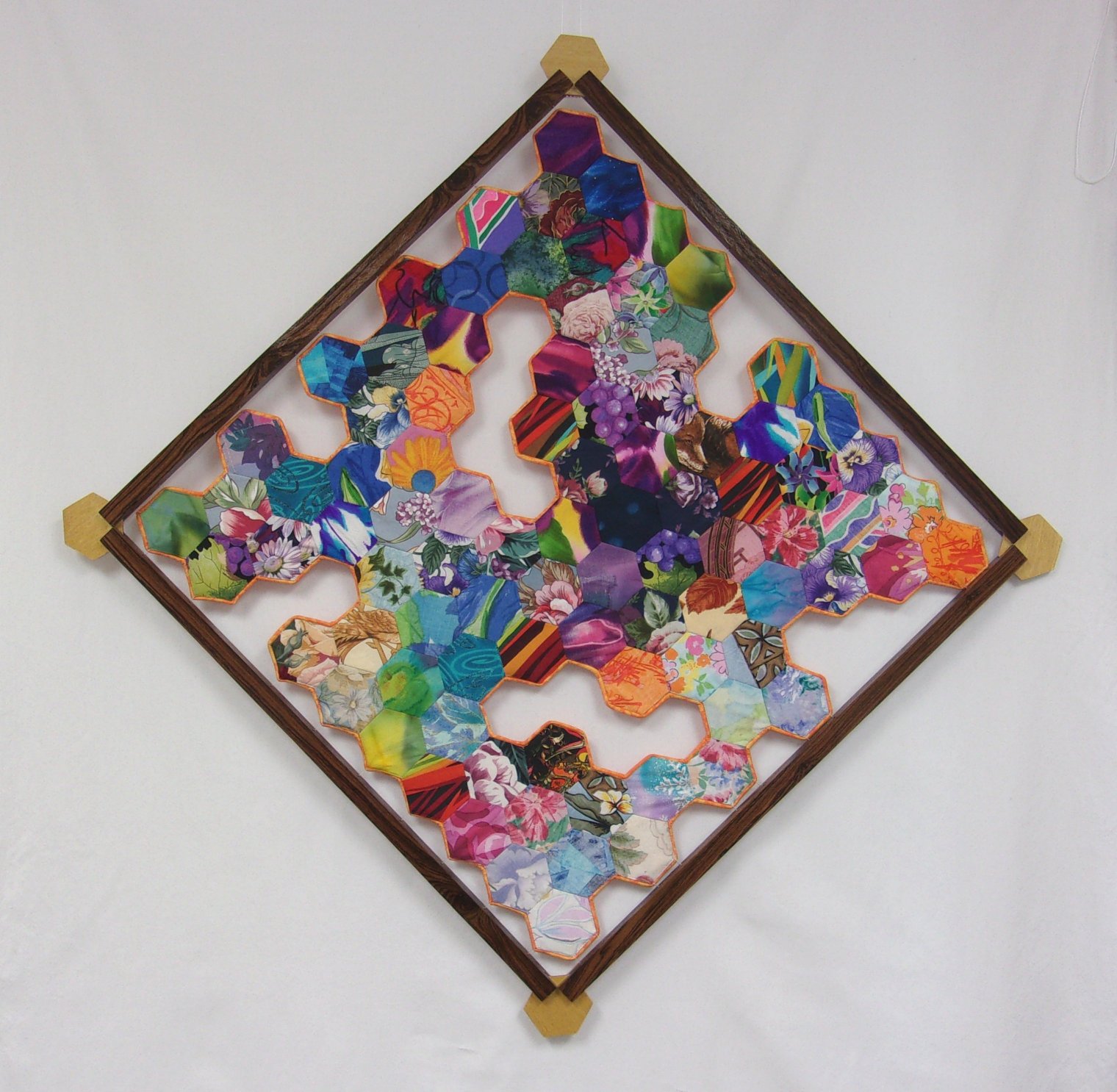 Watercolor Diamond--Open work hexagons suspended in a custom wooden frame. I often hide a fox in my pieces. Can you spot him? (24"x24"x1")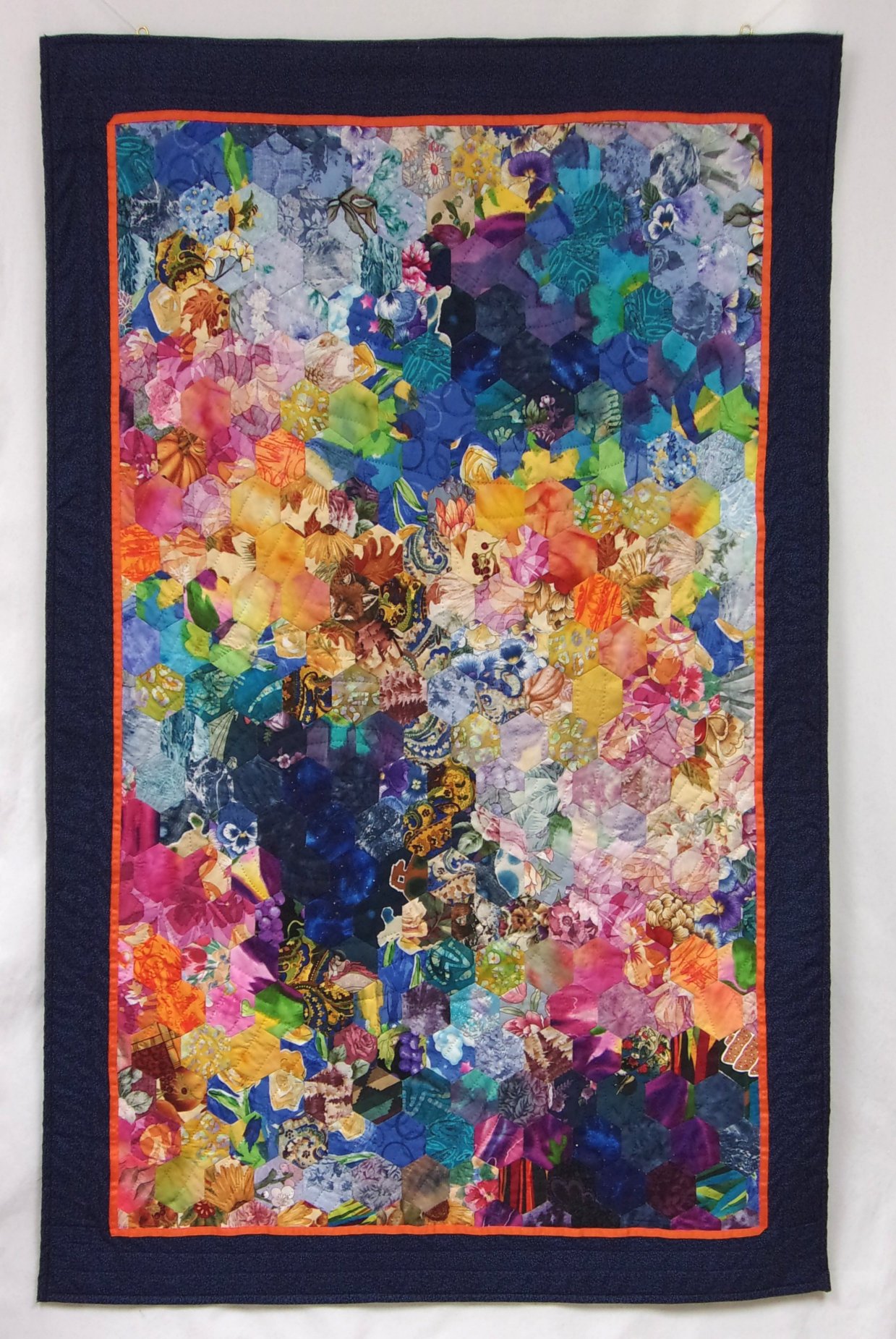 Hexagon Watercolor II--Fabric left over from other projects or rescued from thrift stores meld into a colorful garden. There's a fox in the garden, too. (53"x36")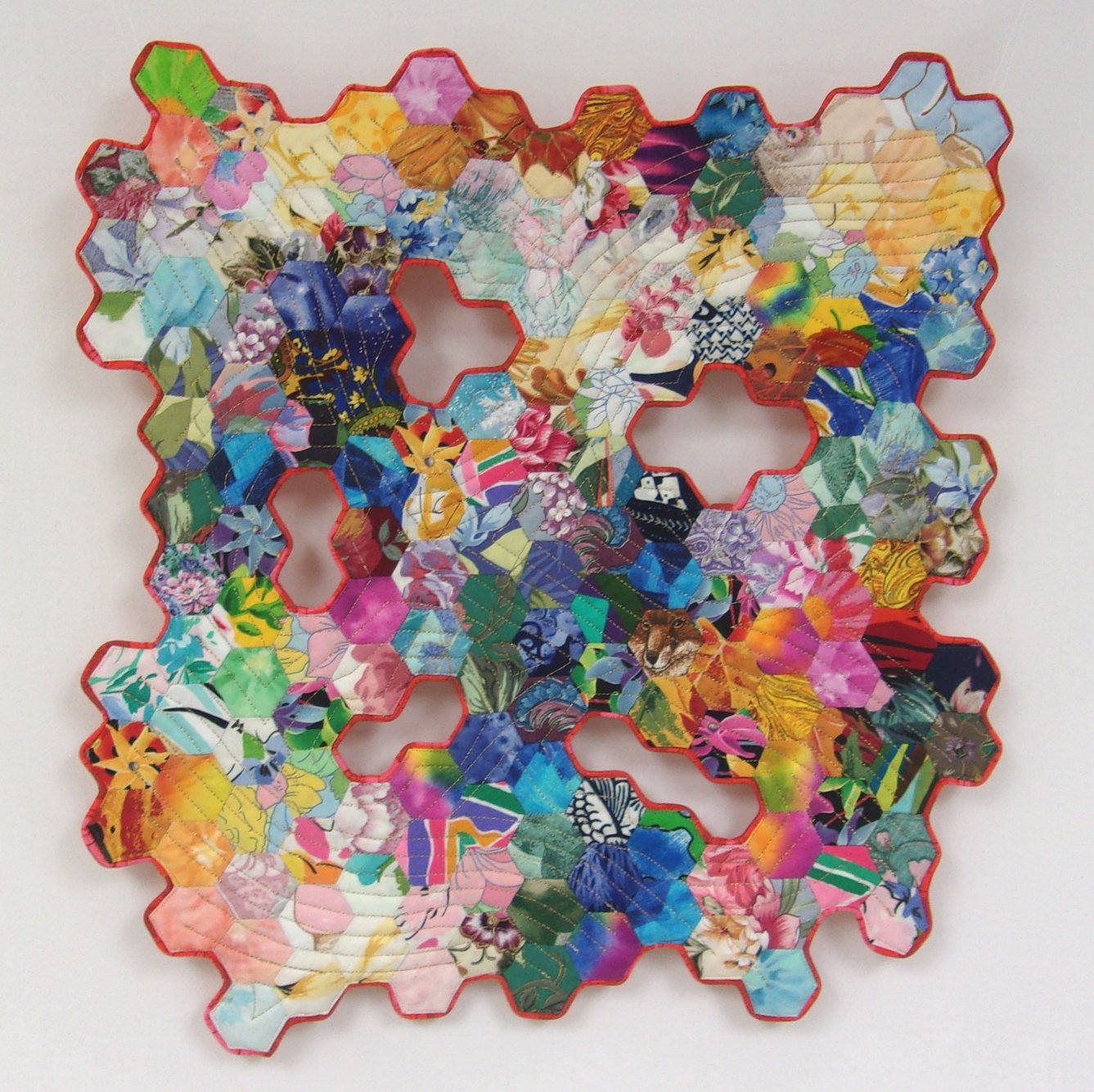 Hexagon Watercolor III--Tiny 1.5" open-work hexagons. Look closely. There's a tiny fox hiding here, too. (14"x14")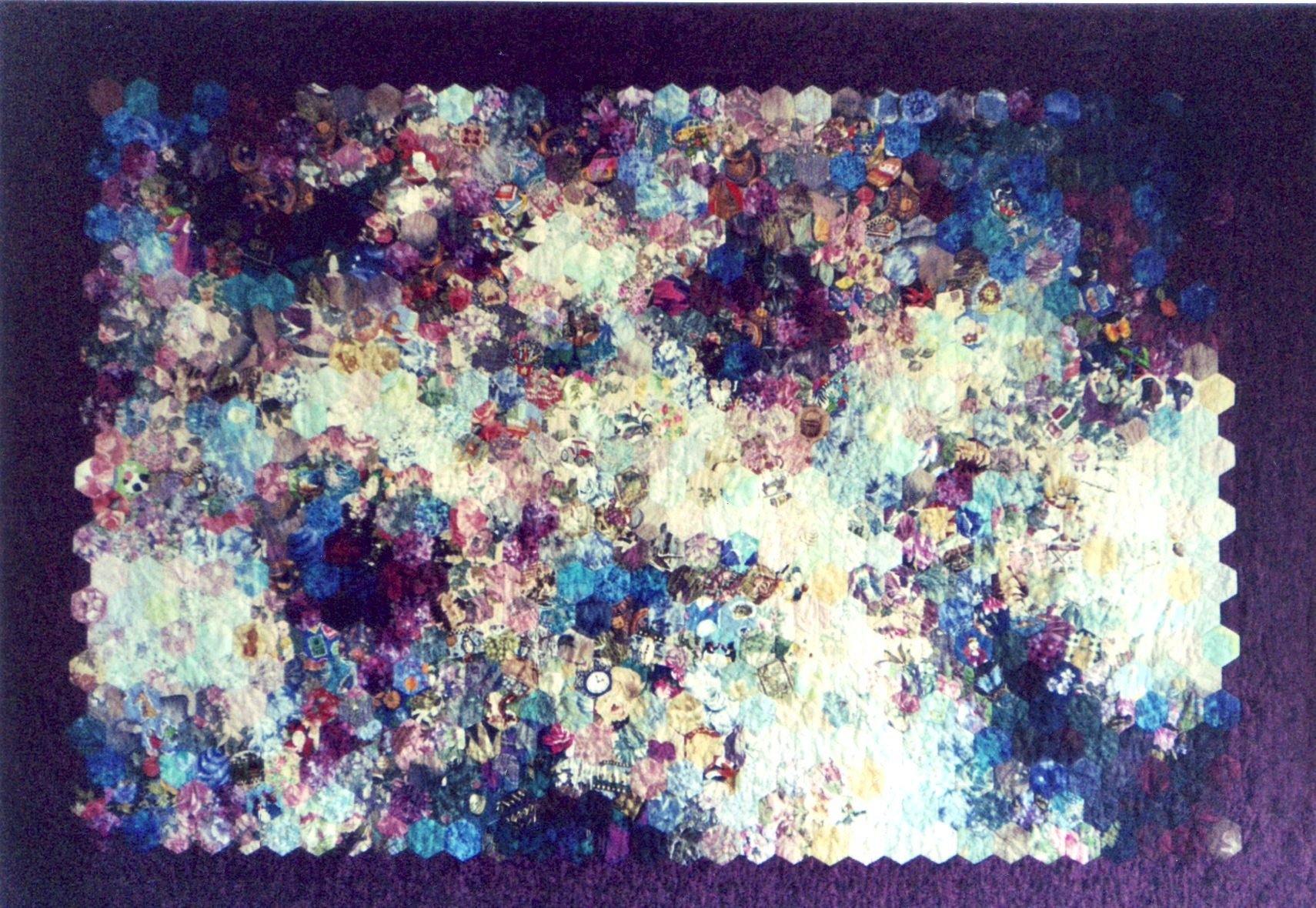 I Spy--There are no foxes in this garden, but you will find 101 other "I Spy" items. 768 hexagons were hand stitched, hand pieced, hand quilted. (88"x64")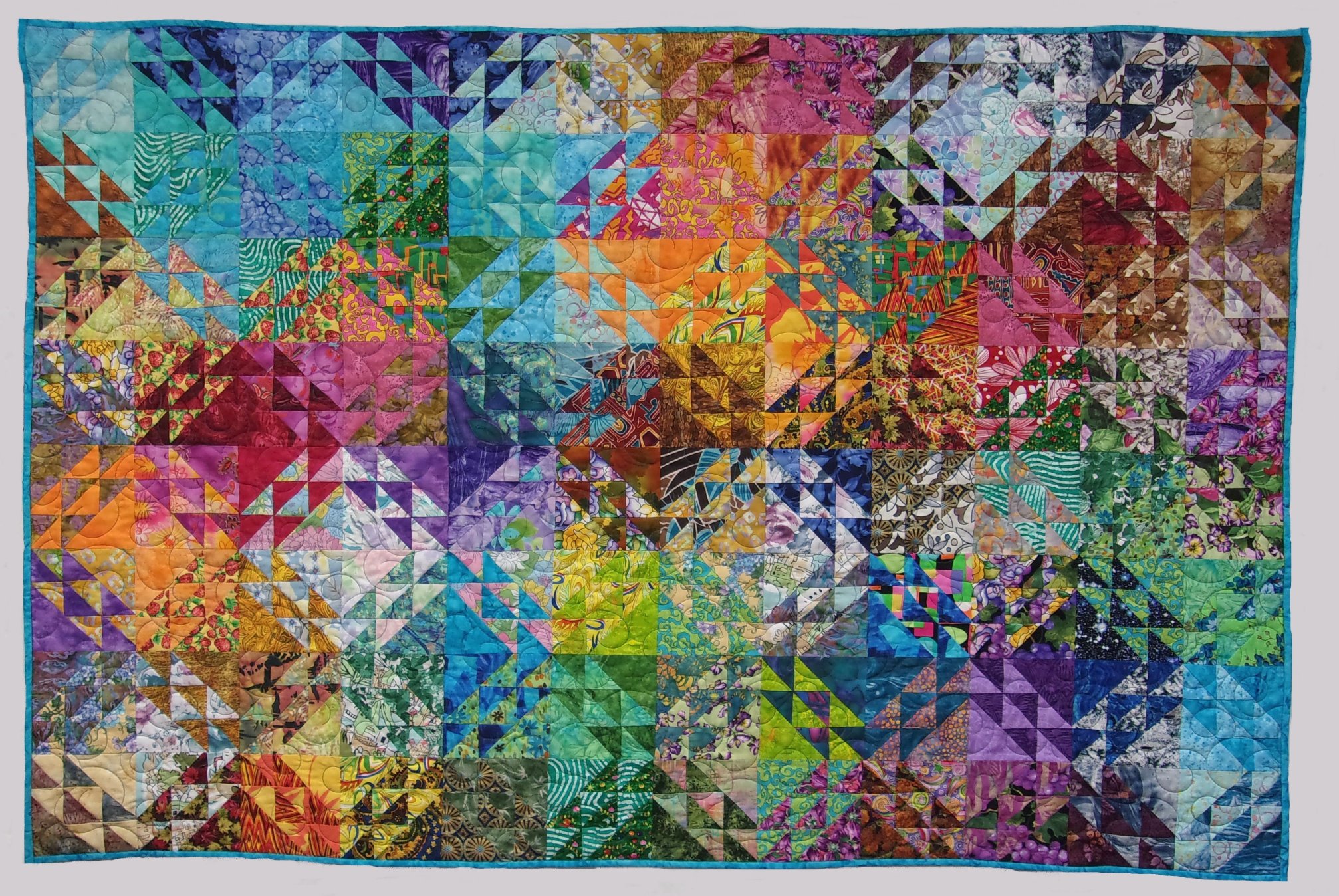 Shimmering Triangles--Numerous thrift store scrub tops, skirts and a muumuu were combined with commercial fabrics to create a shimmer effect. Machine pieced. (Machine quilting by Five Little Monkeys quilt shop.) (44"x60")







Copyright &copy 2022, Melissa Lewis