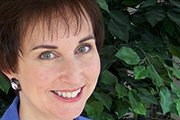 The days of "picture-the-audience-in-their-underwear" are over!
My name is Melissa Lewis, and I invite you to turn your thinking about public speaking upside down! The time has come to let go of all the myths, clichés and gimmicks about public speaking and, instead, embrace a positive, respectful approach that builds authentic CONNECTION between speaker and listener. I can help by providing . . .
High-energy, customized conference keynotes, breakout sessions and workshops
Custom-tailored training programs to meet your organization's specific challenges
Practical and timely one-on-one coaching
Cost-saving distance learning options
Need to stretch your conference budget? Programs on other topics are available also. Take a look!

Copyright &copy 2016, Melissa Lewis