We have a glass dining table and I became intrigued by the thought of making a see-through table runner to go with our see-through table. It took some creative improvisation along the way to figure out how to incorporate open spaces into a quilt but once I did, I started putting holes in almost all my quilts.
"Hexagon Watercolor III"
Copyright © 2015, Melissa Lewis


I try to always include a fox in my quilts if I can. Why? My father was a kind, gentle, wise man who was a deputy sheriff working in the courthouse. If he saw a forlorn child (there because Mommy and Daddy were getting a divorce, or because a sibling was going to jail) he would get the parents' permission and then buy the child an ice cream cone in the cafeteria. They would go to the enormous mural above the busy grand staircase and Daddy would ask the child to search the painting to find the fox who was cleverly hiding from the hunters. I imagine there are many adults today who remember a kind bald man with a star-shaped badge giving them a welcome distraction during a scary day. Can you find the fox in this quilt?

(If you're ever in the courthouse in Fairfax, VA here's a hint: the only part of the fox that's visible is his tail!)


"The Marilyn Effect"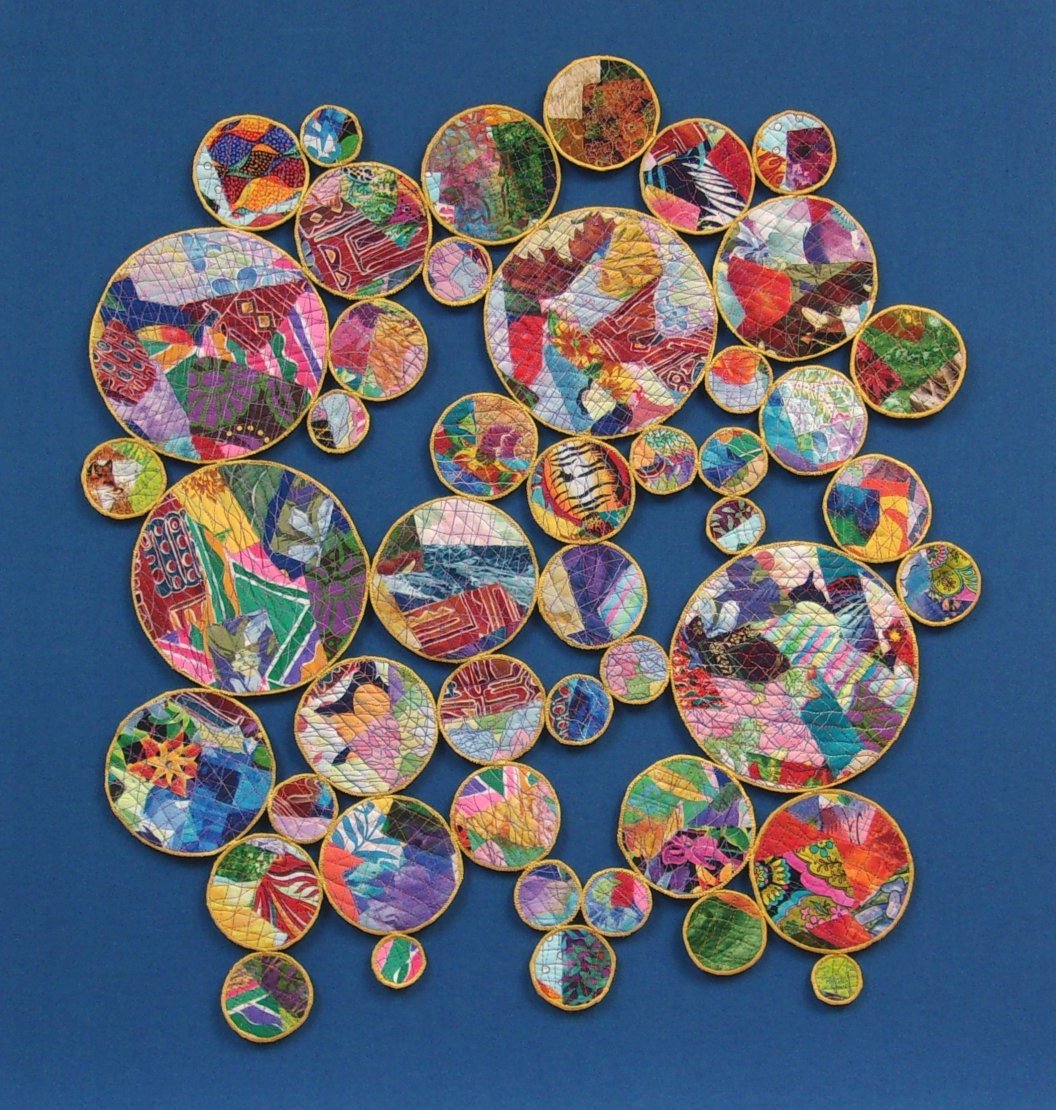 Copyright © 2015, Melissa Lewis


I often find good fabrics at Goodwill and incorporate them into my quilts, especially sturdy cotton scrub tops. I had some leftover Goodwill fabric that I wanted to use up. After I'd made two throw quilts, a table runner, placemats and napkin rings I still had small scraps left. I was tempted to throw the tiny scraps away but then thought of my friend Marilyn Sobanski, a passionate recycler. I thought, "Marilyn wouldn't throw these scraps away," so I developed a technique to use up the tiny pieces and made a different kind of open work quilt out of free-floating circles, which led to a whole new approach to quilting. Thanks Marilyn! (Check out her website at
Rainbow Recycling.
)
"Scrappy Filigree"
Copyright © 2015, Melissa Lewis


After my Marilyn Effect circle quilt, I STILL had teeny tiny srcaps left so, in the spirit of Marilyn, kept on going. This smallest quilt made with the smallest scraps turned out to be the most interesting and fun project of them all, resulting in a new techique I call Quilted Lace.

More to come . . .